Helping Others Live Their Freedom is Important to You
You healed and saved yourself and you live more for others than only for yourself. It's a Divine calling, and you are fed by being of service, but you get stuck not being able to give as much as you know is needed. 
Maybe you serve people professionally already, and are looking for more tools and faster ways to help others through the trials, traumas and tribulations of our time. 
Or you might be that go-to person everyone turns to in a crisis and want to be able to help them more effectively, without losing yourself to it.
And you're deep. You are devoted to your God-given purpose on earth, even if you don't totally know what it is.  
But you get stuck. You need the skills, tools, road map, and healthy boundaries to support others.
As a child I was extremely sensitive, and could read people often more deeply than they could read themselves.
Later in life I had someone tell me that I had x-ray vision. But for most of my early years it was a curse, because no one wanted to receive my reflections or counsel, and nor was I a clear mirror for them.

So my helping nature ultimately just created conflict.

I remember as a young adult being over at a friends place trying to impart to them some spiritual truth I felt they lacked. And then all of a sudden he erupted into anger, jumped up out of his seat, and then threw his glass out the door and smashed it on the sidewalk.

Woah, I was doing something really wrong!!!
I decided at that point to do whatever it took to teach and help people in a way that wouldn't make them mad, LOL. Or wouldn't bring up resistance at least. And would actually help them.

I studied anthropology and Jungian psychology.

I studied ancient healing and spiritual practices in Nepal and India over eight trips.

I was a consultant, VP in business.

I was a yoga and meditation teacher and workshop leader for a decade.

But no matter how much I learned or taught my findings to others, I never felt satisfied that I was helping to the extent I knew I could.

When she saw me in misery with giving classes every night, when I had a young baby no less, a friend suggested I explore coaching. My first thought was that I didn't see myself as a coach.

But then I saw how it was working for her, and I realized she knew something I didn't.

And so I decided to pursue up-levelling myself as a coach. And I was able to pull together all of my many talents in business, spirituality, psychology, anthropology, speaking, writing, music, into one clear role in my coaching practice.

Once I centred myself around my desire to help others transform, then all of who I am had a place. My work became highly and easily valued, it properly sustained me, and fuelled my soul's purpose.

That's why I'm so passionate about training coaches in 7 months what it took me 20 years to learn.

In my Journey Code Coaching Certification training not only do participants gain the skills they need to truly help people, but they greatly accelerate their own spiritual growth and evolution.

Because by answering your calling to be an instrument of other peoples freedom, you much more quickly gain your own.

Right now jobs are disappearing, automations are being installed high speed, and the human element is being removed.

But you are not at the mercy of this. Rather these times are a clear invitation to create in your own image.

That's what getting cancer taught me 20 years ago. At the time I was pursuing only that which was approved of by family and society. In fact, I divorced from my soul and got incredibly ill.

After surviving against the odds I knew I would never again return to a life that wasn't loyal to my soul. Self sovereignty, self-sufficiency, and unbridled ability to create has given my life the meaning I only dreamed of

No one tells me what to do, how to earn a living, how to show up in society, or how I can help people.

I am certified in business and coaching, but by sovereign bodies themselves that do not dictate or monitor me.

Recently on two weeks notice I accepted an invitation to a special gathering and went off on an epic road trip. Because of how I've structured my coaching business I can be anywhere. My clients are all over the earth too.

Thanks to working with archetypes that create a common language despite cultural boundaries, I am able to help those from across the world. 

If life changes, I can change, my business can change. And the way I bring value to others can change.

My coaching practice is the basis for building a community of people that genuinely understand me, appreciate me, and share my values.

As a result of creating it, I feel strong knowing there is a network, and a culture of people that have my best interest.

What we have become accustomed to in our lives is no longer to be relied on. It is time for each one to assume responsibility for themselves and their own, and to make a life in their own Divine image.

As a coach you can be the centre of your culture, and for all you will give you will receive not only abundance in the form of income, but a rich and meaningful life worth living.

Because that's what purpose is, the way you are intimately tied with your humanity. The role you play to serve, and the role you play to be served.

If you were hearing the call to freedom, your Hero's Journey, and the deeper meaning of how you fit with humanity, simply click the link below to hear more about the Journey Code Coaching Certification program that begins in September.
What Participants Are Saying...
Journey Code

A coaching certification program for learning to coach others including 7 Principles of Transformational Coaching, 8 Journey Archetypes, and 9 De-programming Tools.

"My Journey Code experience has been really, really good.

I'm not trying to blow smoke up your ass but I'm super impressed in how you conduct yourself and how it is so obviously that you've done the work, honed your skills, and are still growing and evolving!"

Janet Gauthier

Louisiana, US

Journey Code

A coaching certification program for learning to coach others including 7 Principles of Transformational Coaching, 8 Journey Archetypes, and 9 De-programming Tools.

"I am really appreciating the content and the experience!

I find there's a lot of mirroring effects and that is really extremely helpful to me! It makes me notice things about myself that I do.

I also really like the handouts, and I read them over a few times as well as my own notes and every time I do this I learn more and more and I usually listen to the recording again one more time just to get extra clarity and I get more from it the second time around.

And I am really enjoying your book, I just finished the last couple of pages of the nurturer chapter and have moved on to the lover chapter, it is all fascinating! And I love how you weave in your experiences along with the teachings! Fabulous!"

Gloria Dignzio

Winnipeg, MB

Journey Code

A coaching certification program for learning to coach others including 7 Principles of Transformational Coaching, 8 Journey Archetypes, and 9 De-programming Tools.

"Everything that we are learning truly resonates with me.

I'm finding it fairly simple to integrate the new knowledge. It is very helpful to watch the process in action while you work with us during session. 

Thank you so much for this course. It's actually helping me evolve which is instilling me with a strong sense of knowing that I will in turn be able to assist someone else with their evolution."

Lindiwe Lord

Winnipeg, MB

Journey Code

A coaching certification program for learning to coach others including 7 Principles of Transformational Coaching, 8 Journey Archetypes, and 9 De-programming Tools.

"Great experience! 

I am seeing how these ideas and exercises are so fundamental to living in purpose and having effect in the world; getting things done; feeling positive and increasing energy in life. That positive feedback loop is now going strong! "

Jessica Mycelia

Ashland, Oregon

Journey Code

A coaching certification program for learning to coach others including 7 Principles of Transformational Coaching, 8 Journey Archetypes, and 9 De-programming Tools.

"I'm very excited!

I am on fire right now! Your program is WORKING and I have an amazing partner!!"

Catherine Bonandin

Austin, TX
The Journey Code
Coaching Certification Program Outline
Part One: Deprogramming and Releasing Tools
Once archetype shadows are seen, they are half gone. Unrooting the other half is where the skill of releasing thoughts, feelings, beliefs and programs becomes both a powerful life skill, and a magical way to help others get to the other side of their challenges faster.
As a system that elevates energy, creates clarity, makes decisions easy, allows you to take action and go for goals, these tools will be an invaluable collection to have in your coaching belt.
9 Deprogramming and Releasing Tools
Body/Somatic Releasing

Tonglen
Spiralling / With Archetypes and Scale of Emotion
Resistance
The 3 Wants
Pride
Letting Go of Programs
Decisions
Goals
---
Part Two: Coaching With the 8 Journey Archetypes

In this section you will learn to read archetypes, which means you'll learn their languages, recognize
their patterns of gifts and shadows and be able to help others make shifts based on your reading.
In addition to reading the individual archetypes based on the 8 archetypes outlined in my book, Journey, you will also learn to read someone's position on the Hero's Journey - the path to overcome challenges and ultimately return to the people with the elixir.
By learning to read archetypes in yourself and others you will be able to createshort-cuts for self-awareness and precision for helping to identify exact stuck places so that changes can be quickly made.
The 8 Journey Archetypes
Child
Rebel
Warrior
Nurturer
Lover
Hedonist
King
Alchemist


---




Part Three: 7 Principles of Transformational Coaching 

In this section you will learn how to be a powerful coach with excellent boundaries. You will learn how to lift people higher than they can hold themselves, motivate them to do what they want to do, but can't do fast enough on their own. And you'll give them the comfort of a hand-hold through the scary steps of personal, spiritual and professional development.

These 7 guiding principles will be first learned and then practically applied to facilitate tangible results and transformations in people's lives.

The 7 Coaching Principles 

Do your Own Work
Lead Them To Their Own Conclusions
Tough Love and Saying Hard Things
Boundaries
Key Coaching Questions
Raising the Bar/Setting Standards
Informing vs. Transforming




---
---
The Details
Certification Requirements

Recording of a coaching session
Getting a paid client
Practice group coaching with feedback (4 weekly sessions)
Partner practice sessions (ongoing for seven months)

---
Coaching Time Commitment
2-Hour live group coaching sessions every week for 7 months

Handouts as needed
Live call recordings are available within 24 hours of every call
---
Bonus Resources
You receive the following as part of your Journey Code coaching:
The King Hero's Journey (online course)
The MerPreneur's Journey (online course)
Craft a Package (workshop recording with live Q & A)

Craft, Package and Sell Your Sacred Service (159 page PDF manual)
Magic of Goals (online course)

Vet and Get a Client - (online course)
60 minute one-on-one coaching session, for early bird registrants only

---
Required Reading
Journey: A Map of Archetypes to Find Lost Purpose in a Sea of Meaninglessness
(PDF copy included upon registration)

Order hard copies of Journey for yourself and your clients at cost for only $13.00
---
Investment

Early Bird is a 40% savings
By July 31
One-time payment of $2,160 USD
*instalment plan is available up on request
After July 31
One time payment of $3,600 USD or
7 monthly payments of $600 USD
---
Start Date
Date: September 13, 2021
Time: weekly Monday in North America sessions run at Noon CENTRAL time
---
What happens when you register?
You get instant access to the Journey Code modules, the King Hero's Journey, the MerPreneur's Journey, Primal Power online, the Magic of Goals. AND a PDF copy of Journey: A Map of Archetypes to Find Lost Purpose in a Sea of Meaninglessness 
Ready to dive in?
Want to talk one on one?

If you would like to connect on a Zoom or phone call to see if this is right for you, fill out the contact form below.
 Your training has been absolutely phenomenal!
I have benefited on many levels. The content and techniques are superb. The nature of this course has an intricate overlap of the application and implementation of the material that is beautifully woven together.
As we are coached, we are learning to become a coach, and as we resolve our own issues, we learn to guide others to resolve their issues. This is all brought together masterfully by Beth's eloquent expertise as our coach. Thank you, Beth! Also, the coaching partner and group dynamic has been so inspiring and a key aspect to the whole program!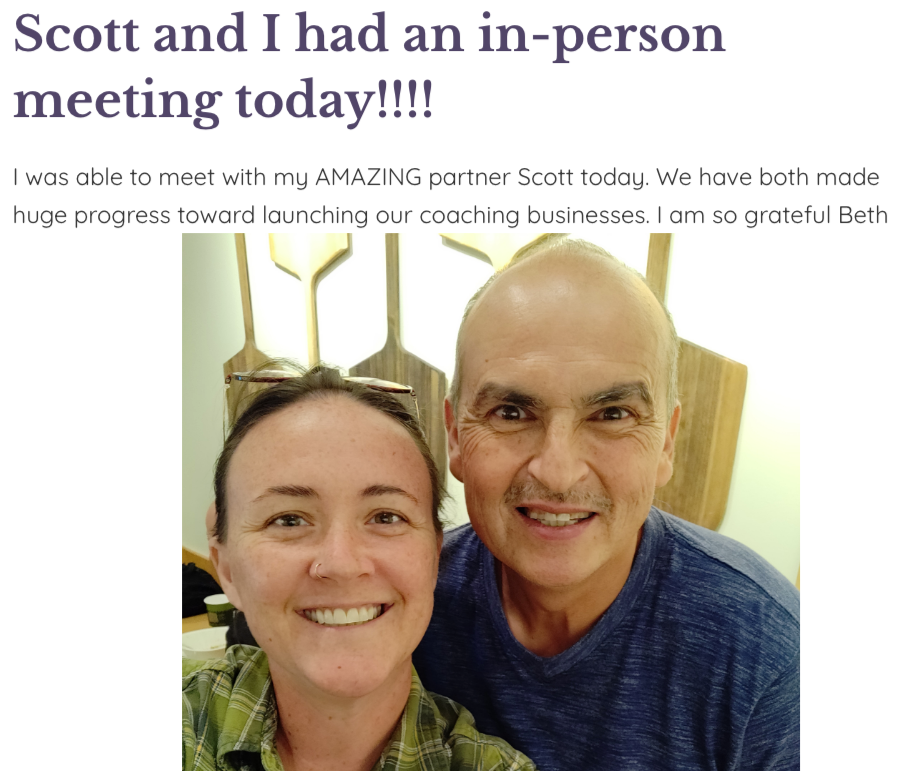 This is taking my coaching skills to a new level. It feels like this was a missing piece that I needed. Much of what I have done in the past had to do with the mind, which certainly has a place in the toolbox.
However, learning to work on the emotional level to help people move past the illusion and choose something greater is truly amazing. This had been a question for me prior to this, even in the past spiritual work I've done.
This is also teaching me a new posture as a coach. I have spent a lot of time as a speaker/teacher, and now I am becoming a listener/guide. I now feel more fully equipped to coach others to the freedom they seek. This is changing my life and enabling me to fulfill my sacred purpose. 
In addition, I cannot say enough about the power of the use of archetypes! Finally, I've said this course is phenomenal because of the unexplainable phenomena that keeps appearing in my life! It truly feels like something beyond me at work. There has been a corridor of people from various geographic locations and different times in my life that I have had needed conversations with starting from right before I started this course. It has been truly transformational!
- Scott Lipes
Ballwin, Missouri
Who I Am
Business coach, archetype reader and author of "Journey:A Map of Archetypes to Find Lost Purpose", Beth Martens' calling is a life or death thing. After a decade as a corporate VP in my family's firm, 8 trips to India, and a 3-year battle with cancer 20 years ago, I used archetypes to save my life.

Today I help men and women to find their sacred purpose, be valued for their life's work, and to survive the ordeals of the Hero's Journey. As recovering feminist, I was inspired to create a the King Hero's Journey Podcast highlighting leaders, entrepreneurs, movement makers, and purveyors of the truth. 

After teaching and coaching for the past 20 years I'm passionate about showing people who care about freedom and the truth to be valued for their purpose so they can make their difference in the world.